MariNH3 is a 5-year research programme investigating the potential of clean, green ammonia to fuel and decarbonise the long-haul shipping industry. In parallel to engineering the best technical solutions, covering new and retrofit engines, we aim to develop policy guidance and a regulatory framework which are 'right first time'.
Join the MariNH3 conference to find out more about our progress and discoveries across the three programme themes:
Acceptance: Overcoming barriers to green ammonia adoption
Fundamentals: Improving understanding of disruptive fuel, combustion and emissions
Application: Ideal applications for varying scales of marine propulsion
Who is it for?
We welcome attendees from industry and academia, from the road, air and rail sectors, as well as maritime, and those who have an interest in developing green ammonia-fuelled engines.
Register
The programme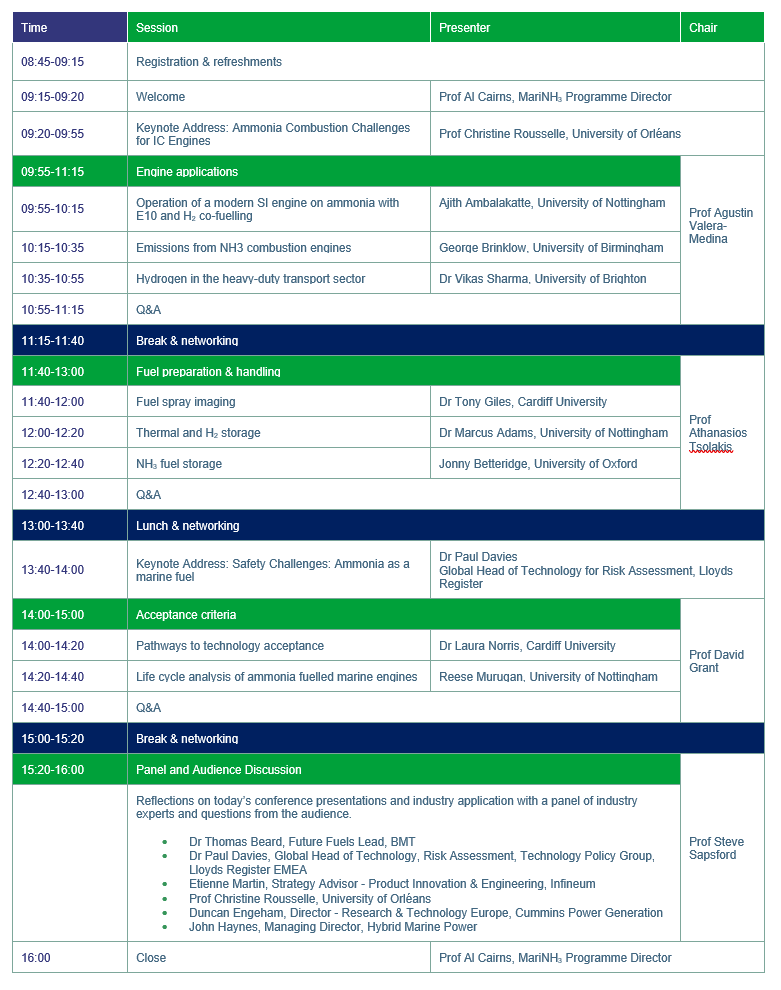 Travelling to the conference centre
By car
The Jubilee Conference Centre is easy to access by car. Use Sat Nav NG7 2TU.
By train
Nottingham Train Station is 40 minute walk from the conference centre.
Local taxi firms, if required, include:
DG Cars (0115 9 500 500 / 0115 9 607 607)
My Cars (0115 9 199 999)
Nottingham Cars (0115 9 700 700)
Parking
Free parking is available onsite at the Jubilee campus, but you will need to display a parking permit. Registered delegates will be issued with a parking permit ahead of the event. Display your parking voucher face-up in a prominent position on the inside of the inside of the windscreen where all details can be clearly read from the outside of the vehicle. Please note, failure to display a voucher as detailed will result in a civil parking notice being issued.
Hotels
The Jubilee Conference Centre Hotel offers a number of rooms on site. Find out more